Bourne Education Trust ('BET') is a Surrey and Hampshire based multi-academy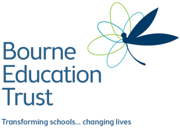 trust made up of sixteen schools, across both primary and secondary phases.
Specialising in supporting schools to improve their performance, BET focusses relentlessly on standards to guide, and, where necessary, intervene to ensure the best outcomes for all learners within its schools.
Led by Alex Russell, CEO and supported by an executive team and board of directors, the Trust's main areas of expertise are as follows:
Increasing leadership capacity and rebuilding confidence
Setting the strategic priorities for schools and creating an aspirational culture
Supporting current leadership teams to implement change
Refining the school's data tracking systems so that intervention is
targeted, appropriate and makes a difference
Improving the quality of teaching through school to school support, paired observations, bespoke training and the use of outstanding practitioners
Increasing the skills of teaching assistants so that in class provision and small group work supports progress
Challenging underperformance and closing the gap
Ensuring that no child slips through the net.
The Trust is characterised by quality leadership and governance, teaching and learning, and strong outcomes. It is efficient and cost-effective to free up resources for the front line. BET's priority is its schools.
Trust Leaders
| | |
| --- | --- |
| Sara Lipscombe | Chair of the Board |
| Alex Russell | Chief Executive Officer |
| Kate Sanders | Chief Operating Officer |
| Audrey Wade | Chair of Audit and Finance Committee |
| Chris Munro | Chair of Performance and Standards Committee |
| Roger Evans | Clerk to the Board |


Board Membership
Sara Lipscombe - Chair of the Board

Chris Marston

David Burr

Jon Stockley

Tony Oakden

The board meets termly and all schools in the trust are held to account for their performance against pre-agreed key performance indicators. The philosophies that underpin the trust are those based on partnership and collaboration. We want to ensure that all children receive a first-class education and that the professionals working in our schools are well equipped to deliver this. We believe that the best way to achieve this is by working together in an open and honest culture, where no stone is left unturned in our quest to deliver an outstanding provision to the children across the trust.
Bourne Education Trust Contact Details: