Current House Point Total:
| | | | | | |
| --- | --- | --- | --- | --- | --- |
| 21451 | 25876 | 40424 | 28083 | 26587 | 25808 |
At Chertsey High School we pride ourselves on being an extra ordinary school with people at the heart and where the sense of community is strong.
Our outstanding personal development is different from almost all other schools and really does put our students first. Tutor groups comprise of students from the same year and each tutor group is linked to a house, each with its own strong identity.
The names for the Houses were chosen with the help of our students who had the opportunity to vote for the six names that inspire them and make them feel proud to be part of that particular house. The Houses are all named after leaders in their field who showed that with knowledge, determination and love we could all make a significant difference to the world.
| Newton | Nightingale | Tolkien | Wilberforce | Garrett Anderson | Pankhurst |
| --- | --- | --- | --- | --- | --- |
| | | | | | |
Each House has a clear identity created by the House Captain team. The House system increases the strong bond and sense of community that is felt across the school. As House members, all students have a wide range of opportunities to work together and to compete against other Houses in a variety of events. Some of these take part as part of lessons; some run during lunchtimes and after school. Each and every department across the school runs a competition each term resulting in at least one weekly event that all students can participate in.
Newton

Nightingale

Tolkien

Wilberforce

Garrett Anderson

Pankhurst

Ayaan

Avinash

Naomi

Molly

Logan

Skye

Melissa

Mia

Chulu

Ema

Shayeri

Ismael
Students are allocated a House when they join and stay in that House throughout their time at Chertsey High. They are encouraged to earn points for their House through their studies and get the chance to take part in regular competitions with the other Houses.
The beauty of the House Systems is that it gives every student, regardless of their ability, the chance to take part in a wide range of activities and in so doing develop their self-esteem.
Our House systems also ensure that our students get the opportunity to experience school life beyond the academic curriculum. For example, there are an annual inter-house competition, regular reward events, charity days and many other inter-house events throughout the year.
Mrs Hayter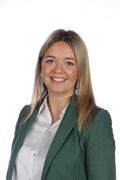 House Lead / Head of Year 11