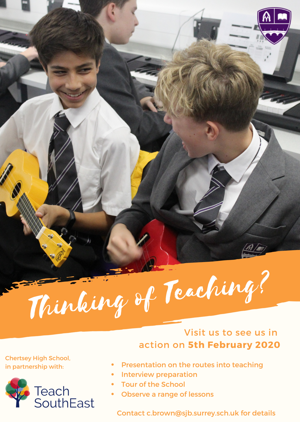 Chertsey High School is proud to be working in partnership with Salesian School in Chertsey and SJB in Woking as a partner of the Teach South East SCITT. Teach South East provides Initial Teacher Training (ITT) across a range of secondary school subjects, and in the last 5 years we have trained almost 300 teachers, most of whom are now employed in our partnership of schools. We currently work in partnership with 14 secondary schools in the area and we are passionate about providing high quality, school-based Initial Teacher Training.
More and more people are considering a career in teaching. If you would like to find out more about how you might train for this rewarding career, you might find it beneficial to book on a Taster Day as it is the perfect first step to explore if teaching is the right career for you. Taster Days include:
A presentation covering the different routes into Initial Teacher Training (ITT), what Teach South East offers and how we differ from other providers followed by a question and answer session
A presentation on how to prepare for an interview lesson
A tour of the school where you will be taken into classrooms to see lessons underway. For many people this is the first time they have been in a classroom since they left school and is a good starting point to see if teaching is the right career
The chance to observe 2 lessons (which will be very valuable both when completing your UCAS application and for preparing for interview).
Queries
Please Click Here To View Teach South East's Promotional Video