We are proud to be a partner school of Teach SouthEast, a SCITT provider (School Centred Initial Teacher Training). Teach SouthEast provides all trainees with high quality training, in both primary and secondary settings, to enable them to develop into competent and confident professionals. Trainees are well prepared through first-rate complementary placements which ensure that they gain substantial practical experience , developing their evaluative and practical teaching skills effectively. In-school expert mentors and external subject trainers have consistently high expectations and work collaboratively to ensure training is coherent and highly relevant to the needs of trainees.
Queries
Please Click Here To View Teach SouthEast's Promotional Video
Teach SouthEast Official WebsiteTeach SouthEast - Taster DaysTeach SouthEast Prospectu
Thamesmead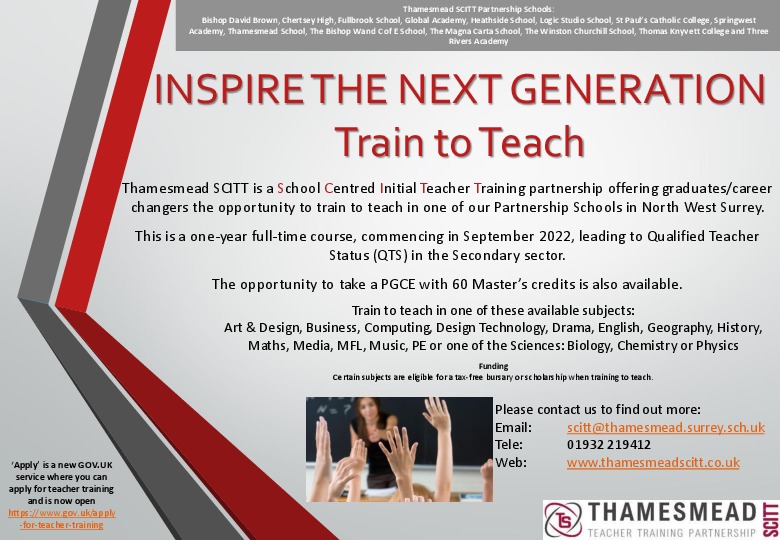 School
Ambassadors

Mr Solaz
English Teacher/Assistant Head of Year 9
Enlightening minds and changing lives by creating a community with the highest aspirations - that is our goal!

Denver
Year 7
Within Chertsey High the teachers are extremely committed to making the best lessons they can to ensure the students can find their best way of learning.

Ms Lalli
Assistant Headteacher
Students are polite, respectful and show curiosity to learn. We support learning, enabling students to reach their full potential.

Year 8
Student
The care and support of the teachers and the modern facilities will make your dreams become reality.

Mr Ball
PE Teacher
I am proud to teach at a school that values and loves every child for who they are. Here at Chertsey High School we look to develop children holistically and I couldn't imagine a better place to do it.

David
Year 8
This is more than a school, this is our CHS Family!
*
Cookie Policy:
We use cookies on this site to improve your user experience.
More Information