Coming together is a beginning, staying together is progress, and working together is success.
- Henry Ford
---
We are delighted to announce the opening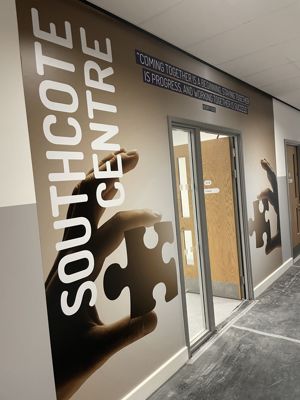 of the Southcote Centre at Chertsey High School. Chertsey High School has formed a close partnership with Philip Southcote (PSS) in providing outstanding SEN provision for the children in Surrey. Philip Southcote is a high performing special school with an excellent reputation that specialises in pupils with Learning and Additional Needs ('LAN'). It is led by Mary Rome, an experienced and widely respected SEND specialist.
The Southcote Centre students are in addition to Chertsey High School's PAN of 180 and so does not reduce opportunities for our mainstream applicants. The Centre is self-contained and fully staffed by Philip Southcote School. A multi-sensory, therapeutic approach is widely used, enabling all children to access the curriculum whatever their preferred learning style and SEND.
The small number of students allows for a high level of individual support and ensures that each child's progress can be assessed and evaluated closely. The curriculum is adapted to suit the individual needs of each student. When attending Chertsey High School lessons, in-class support is provided as appropriate by Philip Southcote staff.
Admissions Process
Applications are made through the SEND Key Stage Transfer process and are managed directly through the Surrey SEND admissions team.
All children who are considered for a place in a Southcote Centre must have:
An Education and Health Care Plan (EHCP) with agreed Special School Provision.
Primary Special Educational Needs identified as Learning and Additional Needs (LAN).
The Southcote Centre welcome visits from parents. If you feel your child meets the admissions criteria above, please contact Philip Southcote School directly and they will be happy to arrange an appointment with a member of their team/staff.
Mr Jerwood

Mrs Afana

Headteacher at

Philip Southcote School

Assistant Headteacher at

Philip Southcote School