At Chertsey High School we recognise that technology plays an important role in the everyday lives of children, young people and adults. As they say, technology is the future. But here at CHS we like to quote Bill Gates.
Technology is just a tool. In terms of getting the kids working together and motivating them, the teacher is the most important
Our E-Safety Co-ordinator
Consequently, we endeavour to build in the use of new technologies in order to equip young people with the skills they will need to access life-long learning and employment. We are delighted to provide children with the opportunity to use a wide range of resources to deliver our curriculum. Inevitably however, the online world develops and changes at great speed. New opportunities, challenges and risks are appearing all the time. It is difficult to stay up to date with the latest devices, platforms, apps, trends and related threats. We understand the responsibility and importance of focusing on the underpinning knowledge and behaviours that can help pupils to navigate the online world safely and confidently regardless of the device, platform or app. Many Parents and carers wish to continue this education at home.
To support you in this, we have collated a few important websites to refer to:
Net Aware: Your guide to social networks, apps and gamesThinkuknow: To protect children both online and offlineCEOP: Child Exploitation and Online Protection commandInternetmatters: Helping parents keep their children safe online
Vodafone: A guide to help your family live a better digital life
Parents can find the most up to date guides for a range social media apps and platforms below. They include information about each app and useful tips to help keep children safe.
Fifa Parents GuideWhatsapp Parents GuideYouTube Parents GuideApp Store Parents GuideSexting Parents GuideScreen Addiction GuideReddit Parents GuideMomo Online Safety Parents GuideLive Streaming Parents GuideInstagram Parents GuideGrooming Parents GuideFortnite Battle Royale Parents GuideFifa Parents Guide
What a Parent need to know about Microsoft Teams
Current legal age restrictions on these sites.
Please help us to spread this information.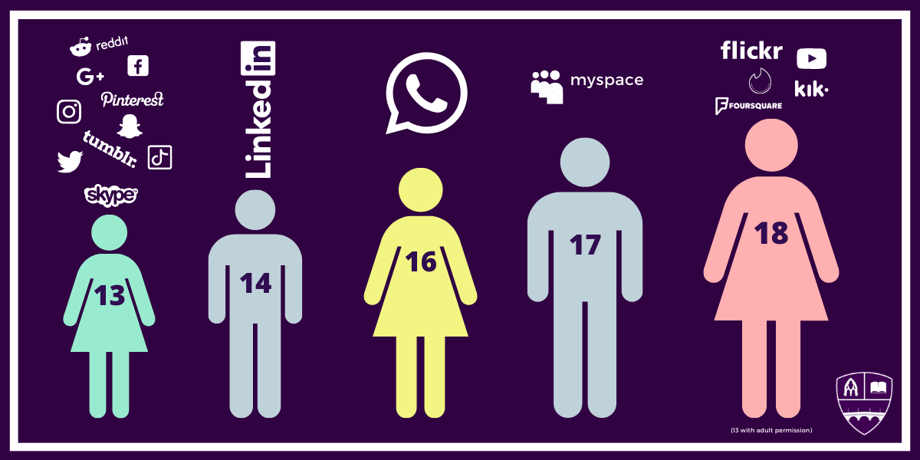 West Mercia Police Cyberbullying Campaign
West Merica Police have publised a range of materials about cyberbullying. These include advice sheets for parents. Click the links below for more information:
Cyberbullying Advice Sheet for AdultsCyberbullying Campaign
Should you have any concerns regarding your child's online safety, don't hesitate to contact school. Alternatively, a range of advice is available as you scroll through this page of the website.
Social Networking Guides
Please have a look at these very useful checklists, which give parents many answers to the questions they may have about the main social networking sites.
Facebook ChecklistInstagram ChecklistSnapchat ChecklistTwitter Checklist
Important steps for parents/teachers to follow when young people go online:
Discuss as a family how the Internet will be used in your house. Consider what information should be kept private (such as personal information, photos etc) and decide rules for making and meeting online friends. Make sure you know what your child is doing online much like you would offline.
Discuss using strong passwords with your child so they understand how they can protect their online accounts. It is important they know they need to keep their passwords safe and not share them with anyone or use the same password for several accounts. If your child's account is 'hacked' make sure they change their password and report any suspicious activity.
Install antivirus software, secure your Internet connection and use Parental Control functions for computers, mobile phones and games consoles to block unsuitable content or contact. Always remember that parental control tools are not always 100 per cent effective and sometimes unsuitable content may get past them, so don't rely on them alone to protect your child.
Consider locating your computers and laptops in a family area where children's online activity can be monitored. Supervise the use of webcams and any applications or devices which allow voice or video chat. Also consider the use and location of other devices which allow internet access such as tablets, mobile phones and games consoles.
Talk to your child and ask them to show or even teach you how they use the Internet, learn which websites or tools they like to use and why. Learning together with your child can often open opportunities to discuss safe behaviour online.
Always ensure your child knows how to block and report people online who may send nasty or inappropriate messages or content. Encourage your child not to retaliate or reply and to keep any evidence.
Make sure your child knows that it is important to tell an adult they trust if anything happens online that makes them feel scared, worried or uncomfortable.
Be realistic. Banning the Internet or websites often will not work and it can make a child feel less able to report a problem or concern, so education around safe use is essential.