We here at Chertsey High School are incredibly excited to welcome you to our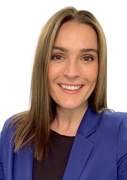 family for the next chapter in your education journey.
As Head of Year 7, I am determined to make your time here at Chertsey High School full of joy and happy memories. From the moment you join us, we strive to enlighten minds and change lives by equipping you with the knowledge, skills, confidence and resilience to make a positive contribution to society, built on a foundation of love and respect.
As Head of Year 7, I will offer you guidance and support throughout your journey backed up by high expectations of all, in and out of the classroom, fuelled by my passion and determination that everyone should succeed. Before you join us, at the end of Year 6, I endeavour to reassure you that this next big step is an exciting new challenge. Through working with our primary feeder schools and closely with families, we help to put any nerves at bay and ensure your transition is a stress free and enjoyable experience.
Our school values are demonstrated by all staff and students at Chertsey High and are at the heart of everything we do; Knowledge to make the right choices, Determination to be the best, and to do everything we do with Love, care and kindness.
From you, we expect dedication and commitment across all subject areas, attending school punctually every day and showing respect to staff and students alike. In return, Chertsey High School will provide a wealth of academic, creative, sporting and personal experiences that will inevitably lead to your success and enable you to achieve academically, socially and lead fulfilled lives.
'The Chertsey High Way': tell us about your dreams and we will help you fulfil them - there is no ceiling to your ambitions here.
Be Brave. Try new experiences, step out of your comfort zone, discover your passions, take chances and make mistakes. With enthusiasm, resilience, hard work and a positive attitude to learning, as a team, working closely with your families, we can tap into your potential and achieve more than you dreamed of.
Success is not a destination, it's a journey, and I am looking forward to starting our journey altogether here at Chertsey High School very soon.
Miss A. Musk
Head of Year 7