Whilst the construction work for the new Chertsey High School car park is being undertaken all Visitor/Staff Parking for Chertsey High School will be located at Abbey Rangers Football Club, postcode KT15 2QH.
The car park is accessed from Addlestone Moor Roundabout, please follow the signs to Abbey Rangers. All visitors must report to the school reception via the pedestrian entrance on Chertsey Road. Please exit the car park entrance by foot, turn right and follow the footpath to the main road, the green school gates can be found on your right hand side past The Hub Coffee House.
Please note there is no vehicle access or parking facilities for the school from Chertsey Road.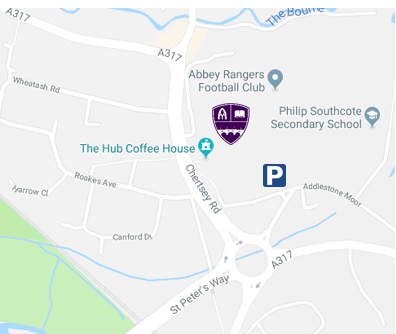 Click Here To See Our Different Routs