As a school, we place a high priority on attendance as it has a marked impact on learning and academic achievement.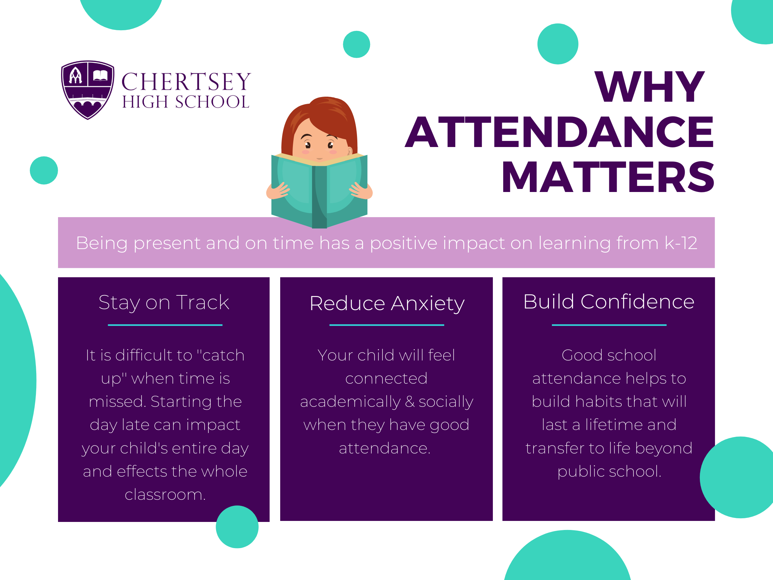 Please see the table below explaining the impact of attendance on lessons missed.
Annual attendance

Days missed

Lessons missed

100%

0 days missed

0 lessons missed

95%

9.5 days of absence
Almost two weeks of learning missed

57 lessons missed

90%

19 days of absence
3 weeks and 4 days of learning missed

114 lessons missed

85%

28.5 days missed
5 weeks and 3.5 days of learning missed

171 lessons missed

80%

38 days of absence
7 weeks and 3 days of learning missed
This is the equivalent of an entire half-term

228 lessons missed

For our GCSE students, one week's absence means that they miss 4 English lessons and 4 Maths lessons; these subjects equate to three GCSE qualifications.
*These calculations are approximate based on a full 190 days of the academic year for years 7-10. A student's individual timetable may vary and internal or external school events will have an impact.
We do recognise, however, that a student's absence due to an illness or a medical appointment can be unavoidable.
Parents must notify the school on the first day of an unplanned absence – for example, if their child is unable to attend due to ill health – as soon as possible.
We encourage parents to make medical and dental appointments out of school hours where possible. Where this is not possible, the student should be out of school for the minimum amount of time necessary. the school will not authorise more absence than is required to attend the appointment.