Overview
Please find below details and resources to help your child structure their day and minimise the disruption to their learning over the coming weeks.
We hope that this microsite provides you with further clarity on what we can and cannot provide for your child during this exceptional time. We fully appreciate how challenging this is going to be for all families. We understand that for many, juggling work, childcare and now facilitating education is going to be extremely difficult. We know that you may well be dealing with sick or vulnerable relatives, you may be sick yourself and on top of this, you may have serious financial concerns.
We would implore you to do all you can to support your child in continuing to access education to the absolute best of yours and their ability; routine and a sense of purpose are going to be incredibly important over the coming weeks and months.
We are all in this together, however we must be realistic. Family comes first for everyone, including our own staff. Please be considerate of that and follow the guidance set out for you below.
Please Click Here To Download Our CHS Home Learning Booklet


What we can't do
We cannot provide a school away from school – nothing simulates a lesson like the 'real thing'. Relationships are a huge part of our learning environments here and goes a long way to helping the students achieve their full potential
We cannot effectively teach students new content remotely – the majority of work provided will be either independent or project based learning covering content that has already been taught, or that does not require the input of a teacher.
Why should we keep up a 'school-like' routine at home?
Keeping a daily routine, maintaining some form of exercise, and making time for reading all have significant benefits to mental health and well-being. We would strongly encourage you to set up and stick to a daily schedule, and where possible, work alongside your child. For example, if you are working from home then set up a desk where you can both work independently, but together. The sooner you implement a schedule, the better. Where possible we'd also like to encourage you to insist on some device free time to ensure your child is maintaining the very best of habits. Whilst our young people are working remotely social media poses a great risk that we should all be aware of.
The following is meant to provide you with a brief idea of the amount of time we would advise your child to spend on various activities each day:
Home Timetable
Breakfast - 30mins
Schoolwork set by teachers - 1 hour
Exercise / fresh air - 15 mins
Schoolwork set by teachers - 1 hour
Lunch - 45 mins
Schoolwork set by teachers - 1 hour
Exercise - 1 hour
Reading - Half an hour to 1 hour
Alternatively, your child might prefer to follow their normal school timetable.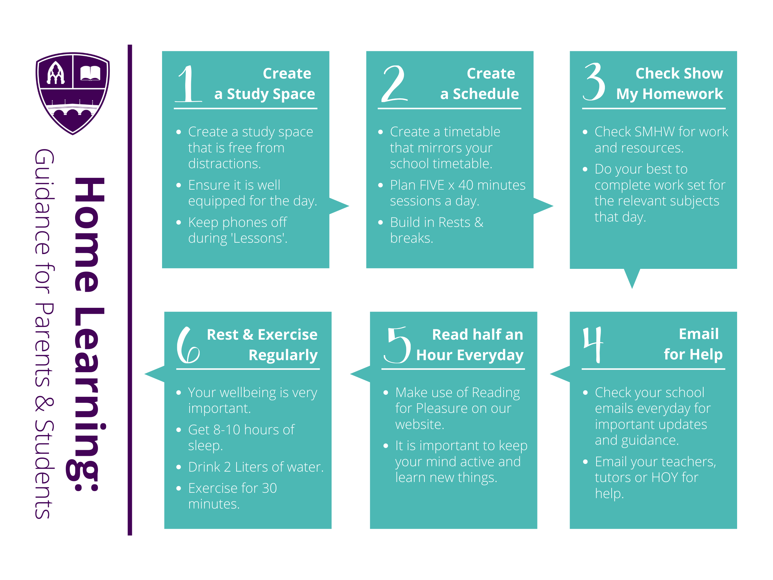 How will work be set for my child?
Staff will set work online through Show My Homework which your child can access on their electronic devices at home and by logging on at www.satchelone.com
Due to the volume of work set, students must log in to see the correct work set. Students have been reissued with their login details in this eventuality. Should you need another copy of their login details please contact Mrs Tack (Head of ICT)
All communication between staff and students will be via their school email accounts. Every week departments will upload work for the week ahead.
Will my child be expected to learn the curriculum themselves?
No. Realistically we cannot effectively teach students new content remotely. However, where there is new content for students to learn remotely, provision will be made upon their return to school to recap what has been covered.
Will my child be given feedback on their work?
Where possible, during normal school hours staff will be available to communicate with students should it be required either individually and collectively via their school email accounts.
What if school is closed for a very long period of time?
We firmly believe it is important that all students are supported and encouraged to keep up their studies but appreciate that this will become increasingly challenging, the longer the period out of school is. The best way to maintain it in the medium to long term is to introduce a daily schedule from day one so that this becomes your family's 'new normal'.
We are continually reviewing the situation and will provide updates for parents and students, as and when the guidance we are being given by the government changes.
How can I motivate my child?
The truth is, it is going to be very difficult. However, if they produce a truly brilliant piece of work, please encourage them to email it to their Form Tutor, Subject Teacher or their Head of Year so that we can see the great work they are doing and praise them.

I am worried about my child's mental health, what can I do?
Evidence suggests there are 5 steps you can take to improve your mental health and wellbeing. Trying these things could help you feel more positive and able to get the most out of life. For this reason, we have put together a Activities, Exercise and Fresh Air page. We always try to encourage students and parents alike to stick to the 'healthy mind' platter and now more than ever it will be important to ensure your child's daily routine covers each of the areas displayed below.
Please Click Here For More Information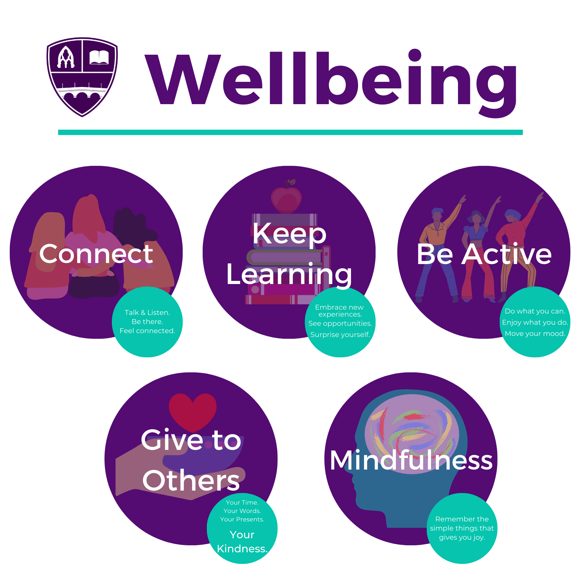 For some people, the coronavirus outbreak and surrounding coverage and speculation may trigger compulsive thoughts and unhelpful behaviours, particularly if you have pre-existing conditions such as Anxiety and Obsessive Compulsive Disorder. If you are receiving support for your condition, you might find it helpful to talk to your clinician, therapist, or other medical professionals.
Various external organisations have begun producing guidance for those who have existing mental health conditions:
BBC: Coronavirus - How to manage Anxiety and OCD during the pandemic
Beat Eating Disorders & Coronavirus
Please email your child's Tutor, Head of Year or Mrs Howard. We will always try our best to accommodate you and your child. Regrettably we cannot provide direct pastoral support when we have no opportunity to see your child face-to-face, we have to be realistic and much as we would like to support directly, we cannot promise the usual high standards of pastoral care at this challenging time and most importantly, we don't want to make any promises that circumstance dictates we cannot keep. For this reason, we have put together a Pastoral Support page. Please make use of these facilities. They are there to HELP YOU, in anyway they can.
Our family have suffered significant bereavement, what should we do?
If your close family is affected by bereavement and you would like to make this known to us so that we are aware of your family situation, please contact the Deputy Headteacher & Designated Safeguarding Lead of School directly via email.
My child has special educational needs, how will they be supported?
If your child has an EHCP then we will have contacted you directly to find out whether you would like to continue sending your child into school each day.
For all other students with special educational needs, the learning support department are working hard on modifying the subject work being set for the students – they will do their best to do this so that your child can access the work. However, if your child is struggling to access certain pieces of work, please email our SENCO or SEN Administrator.
We as Chertsey High School family will always try to support our students. As I am sure you will appreciate, it is not easy to support the students remotely and at times, due to personal circumstances, our staff may not be available to do this. Your child will need additional support from you or another adult / older sibling so that they can access some of the work.