Please find below details and resources to help your child structure their day and minimise the disruption to their learning over the coming weeks.
We hope that this microsite provides you with further clarity on what we can and cannot provide for your child during this exceptional time. We fully appreciate how challenging this is going to be for all families. We understand that for many, juggling work, childcare and now facilitating education is going to be extremely difficult. We know that you may well be dealing with sick or vulnerable relatives, you may be sick yourself and on top of this, you may have serious financial concerns.
We would implore you to do all you can to support your child in continuing to access education to the absolute best of yours and their ability; routine and a sense of purpose are going to be incredibly important over the coming weeks and months.
We are all in this together.
Remote Learning Handbook
This 'Remote Learning Handbook' is for students and parents. This handbook has all the information you would need for Remote Learning. If you have any questions that have not been answered in this handbook, please email our Remote Learning Lead (Ms Lalli) and/or Remote Learning Deputy Lead (Miss Wheeler).
| Dr Mercone | Mrs Wheeler |
| --- | --- |
| Remote Learning Lead | Remote Learning Deputy Lead |
| | |
Live Q&A session with Mrs. Goulborn and Ms. Lalli
Mrs. Goulborn (Deputy Headteacher) and Ms. Lalli (Assistant Headteacher) will be hosting a live Q & A session (date to be confirmed) to present what the half term ahead looks like for our students. We will mainly cover remote learning, but there will be opportunities for you to submit questions and we will do our best to answer them. Please follow this link to book a place to participate in the live event via School Cloud.
Remote Learning Live Q & A Session
Wellbeing Support Service
We are pleased to be launching the new Wellbeing Support Service that gives parents and students a chance to speak to our Student Support Lead.
The service will offer families the chance to ask about any challenges or difficulties that they are facing in a safe environment speaking directly to Mrs Howard from 'The Lighthouse', the service will be available every Wednesday between 2pm and 4pm and appointments can be made via school cloud.
Book A Drop-In Session With 'The Lighthouse'
SEND Drop-Ins with our SENCo Miss Brazier
I am delighted to say that if you would like to book a slot with the SENCO to discuss the learning needs of your son/daughter then please sign up for a virtual meeting on the school cloud. These sessions will be Monday 25th January and Monday 8th February and the slots will be open between 9:15 and 10:30.
What is my child learning?
We teach the same curriculum remotely as we do in school wherever possible and appropriate. This is the case for most subjects in all years. However, we do to make some adaptations in some subjects. For example, with practical subjects such as music, design and technology or drama, we have adapted the curriculum to include more research-based tasks when it is not possible for students to access the tools and materials they would usually be provided within school.
Students will have access to the full curriculum and will be taught five 60-minute lessons a day. We run a 2-week timetable (Week 1 and Week 2).
Information for parents about our remote learning provision
The below is information about the remote learning provision at Cherstey High School which is general to any student who is self-isolating at any point, including when the school is open.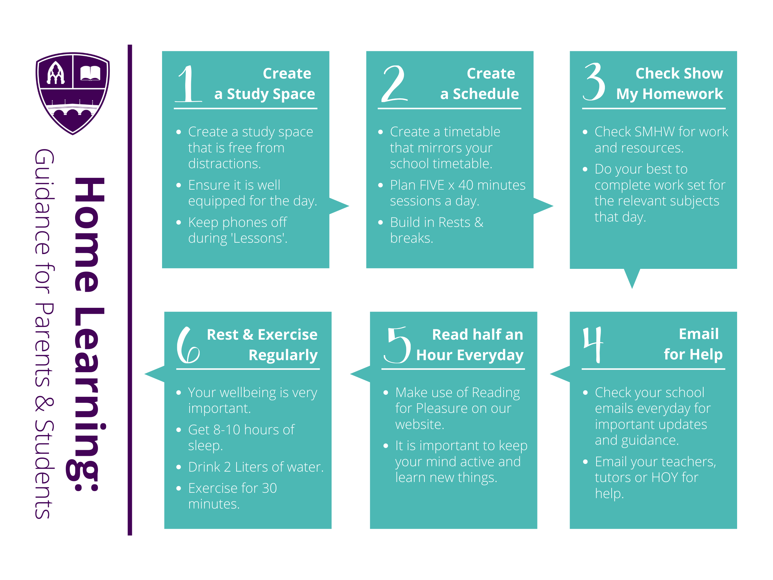 How can I motivate my child?
The truth is, it is going to be very difficult. However, if they produce a truly brilliant piece of work, please encourage them to email it to their Form Tutor, Subject Teacher, or their Head of Year so that we can see the great work they are doing and praise them.

I am worried about my child's mental health, what can I do?
Evidence suggests there are 5 steps you can take to improve your mental health and wellbeing. Trying these things could help you feel more positive and able to get the most out of life. We always try to encourage students and parents alike to stick to the 'healthy mind' platter and now more than ever it will be important to ensure your child's daily routine covers each of the areas displayed below.
Please Click Here For More Information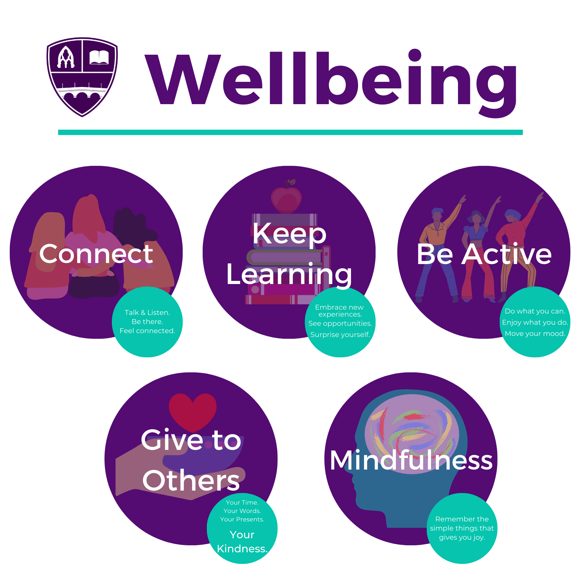 For some people, the coronavirus outbreak and surrounding coverage and speculation may trigger compulsive thoughts and unhelpful behaviours, particularly if you have pre-existing conditions such as Anxiety and Obsessive Compulsive Disorder. If you are receiving support for your condition, you might find it helpful to talk to your clinician, therapist, or other medical professionals.

Various external organisations have begun producing guidance for those who have existing mental health conditions:
BBC: Coronavirus - How to manage Anxiety and OCD during the pandemic
Beat Eating Disorders & Coronavirus
Please email your child's Tutor, Head of Year or Mrs Howard. We will always try our best to accommodate you and your child. Regrettably we cannot provide direct pastoral support when we have no opportunity to see your child face-to-face, we have to be realistic and much as we would like to support directly, we cannot promise the usual high standards of pastoral care at this challenging time and most importantly, we don't want to make any promises that circumstance dictates we cannot keep. For this reason, we have put together a Pastoral Support page. Please make use of these facilities. They are there to HELP YOU, in anyway they can.
Our family have suffered significant bereavement, what should we do?
If your close family is affected by bereavement and you would like to make this known to us so that we are aware of your family situation, please contact the Deputy Headteacher & Designated Safeguarding Lead of School directly via email. More information about Safeguarding during this time can be found on our Safeguarding page.
Mrs Goulbron
Mr Howell

Deputy Headteacher

Designated Safeguarding Lead

(DSL)

Email Mrs Goulborn
My child has special educational needs, how will they be supported?
For all students with special educational needs, the learning support department are working hard to ensure that the Teaching Assistants are in every lesson possible to support anyone that needs it. They will do their best to do this so that your child can access the work and have a better understanding of the lesson. However, if your child is struggling with anything, please email our SENCO, SENCO Deputy or Administrator.